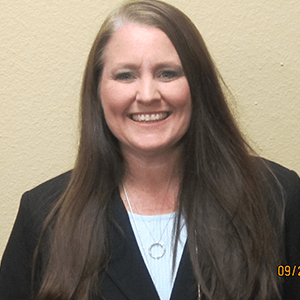 Deena Ponto has been involved in child welfare in a variety of agencies and roles since February 1993. Her experiences has been in many capacities through the years from direct care in a shelter facility to leading in a senior management position. Deena has experience in direct operations with dependency case management, foster care programmatic level with budget and policy involvement, contract management, monitoring and quality assurance. She joined the ChildNet team in June 2006 serving as the Director of Support Services. She subsequently was promoted to Assistant Vice President of Support Services in April 2010 and expanded to serve in that role for both Broward and Palm Beach Counties. Deena later was transitioned into her current role as Program Officer of Case Management in September 2015. In this role, Deena's Department includes 4 Case Management Directors and an Office Supervisor who oversees their individual Divisions ranging with up to approximately 30 staff per Division. Included in her Department are the specialty areas of Youth Services, which encompasses the Independent Living Programs of Extended Foster Care, PESS and Aftercare, Children with Extraordinary Needs (CEN) Unit, the Missing Persons Unit, as well as ICWA and Seminole Tribe. Deena also represents ChildNet on the Interagency Staffing Committee and interfaces with the Department of Juvenile Justice to work cohesively with the children in the CEN Unit. Deena enjoys utilizing her vast array of experiences and knowledge through the years to focus on coaching and mentoring staff at all levels.
In her previous role as the Assistant Vice President of Support Services with ChildNet, Deena had oversight of the Intake and Placement Department, which consisted of SafePlace and Family Preservation Unit as well as the Support Services Division which included: Records Management Unit, Courtesy Unit, Transportation Department, Medical Unit, Background Screening and Diligent Search Unit, Out of County Services/Interstate Compact for Placement of Children/Transfer of Jurisdiction, Contingency Funds, and Child Care Referrals. In addition, she had oversight of Waivers, Medicaid Reform/Medical Billing and Vehicle Maintenance.
Deena's experience prior to joining the ChildNet team included Director of Operations with Children's Home Society, 11 years' experience with the Department of Children and Families in the positions of Program Operations Administrator, Family Services Specialist, Family Services Counselor, and as Program Specialist and Direct Care Specialist with Lutheran Services of Florida Lippman, Family Center. During this time, she also served as a representative on the CMAT Staffings with Medical Foster Care.
Deena earned her Bachelor's Degree in Psychology from University of Florida and a Master's Degree in Social Work from Florida International University. She is a Field Instructor Certified for BSW or MSW intern placements. Additional certifications include double Child Protection Certification as a worker and supervisor, Lean Six Sigma Yellow Belt Certification, Lean Six Sigma Green Belt Certification, and Quality Assurance Reviewer Certification, as well as concentrated trainings in Human Trafficking, Contract Management, Data Analysis, Quality Case Management, Supervisor Effectiveness, Federal Funding and COA Accreditation.